---
Spanish Word of the Day: 2011-11-23

[ subscribe ] |

[ receive by email ]


redimir
English Translation
: to redeem, to liberate, to ransom
Spanish Example: En esencia soy un músico frustrado, pero con esta película me redimí.

English Translation: Basically I am a frustrated musician, but with this film I redeemed myself.
---
Add the Spanish Word of the Day to your website!
To display this same word of the day on your webpage, simply copy and paste the code below in its entirety into the HTML of your webpage.

---
If you have a Google homepage, you can
add the Word of the Day gadget
, or you can
add it to any webpage
.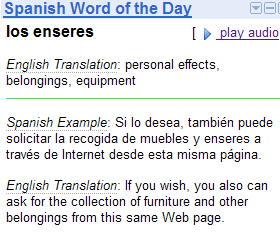 [
add to Google Homepage
] | [
add to webpage
]
---